Montenegro summer 2019 offers you incredible opportunities.
Although we're at the beginning of a new year, many of us have already begun to plan their holidays. This fact is not surprising, since everyone always eagerly awaits vacations. This feeling further strengthened by beautiful photos and dear memories we gathered from the last year's trip.
The options during this season are, indeed, enormous. However, the Montenegrin coast always stands out from the offer. The area from ​​Boka Kotorska to Ulcinj is simply amazing. First of all, there are the most beautiful beaches in Montenegro that wave a blue flag for quality and cleanliness. Then, there are numerous sights in Montenegro that delight tourists with their historical heritage, while spending time in Budva guarantees an unforgettable holiday.
In our new blog, we'll tell you why the Montenegro summer 2019 is the best option for you this upcoming season.
Montenegro Summer 2019 – Importance of Early Booking
Trends in tourism are constantly changing. Back in the days, travel agencies were the only choice for holiday planning. Today you can book your favorite accommodation in Montenegro online with little effort.
Since the timing is crucial when it comes to Montenegro Summer 2019, it's important that you start planning right away. That way, you will have plenty of time to decide where you want to spend your vacation, compare offers and find accommodations that match your requirements.
Also, early booking allows you to find favorable prices, which means that you will save on accommodation. You can use the remaining budget for excursions, tours of museums, shopping, or, for the gastronomic enjoyment of fish specialties in Montenegro.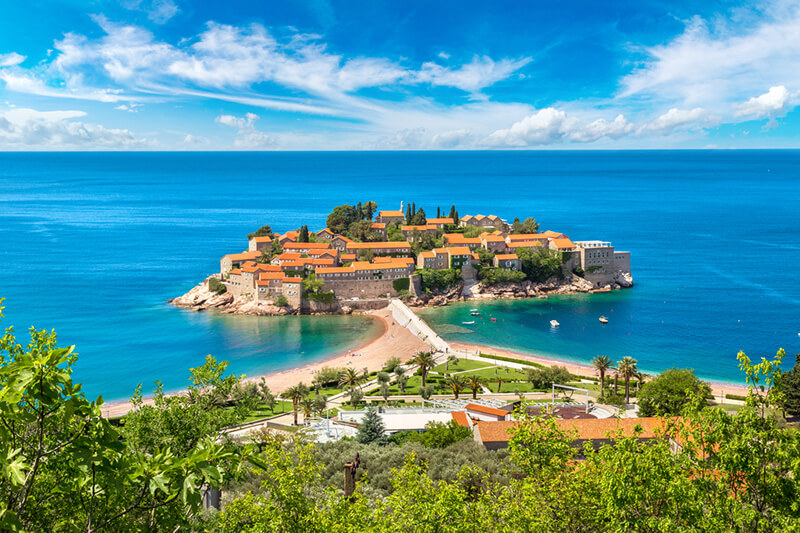 Montenegro Summer 2019 and the Soothing Sea
The very thought of lying on the beach while the warm sun rays caress your face is inviting enough. The proximity of the sea, truly, has an incredible effect on the body and mind of people. It's not a subjective feeling, but scientifically proven benefits of the sea, researched by the German Institute for Hygiene and Public Health in Bonn.
In fact, spending time in nature by the sea can help us forget all our problems. The calming waves can bring us into a state of complete relaxation and tranquil where only peace and harmony exist.
Also, sunbathing positively affects our health, as the body receives sufficient amounts of vitamin D. Under the influence of heat of the sun, the secretion of endorphins, the hormone of happiness that relieves us of stress increases, while the swimming gives us more energy and keeps us slim.
Montenegro summer 2019 will give you an incredible experience, regardless of where you choose to go.
Montenegro Summer 2019 – Best Accommodation
Choosing the right place is the most important option for a perfect holiday. Therefore, this is the most demanding task in the plan.
Sofija apartments with their modern design and luxury interior stand out from the rest. Privacy, comfort and functionality are their main motto. This means that you will have the comfort of your home. No one will bother you during the break, so these are ideal apartments for your family. And most importantly, you will not worry about whether the devices work, whether the bathroom is clean, and the wardrobe is spacious.
Namely, Sofija apartments in Montenegro offer much more than a simple hotel accommodation. Friendly staff foster family relationships with their guests, and will make every effort to fulfill your request.
Do not waste time searching, book your term in one of Sofija apartments, studios or rooms, because they bring you top quality at affordable prices.