Where to go this summer – the question you hear a lot nowadays.
Spring has finally come. With bloomed gardens and warm sunshine, new love romances are being born. But also, thoughts about favorite holiday resorts and sandy beaches are more frequent. Now is the right moment to make decision where to go this summer, so you can prepare yourself for long-awaited summer vacation and completely relax from your everyday obligations.
Internet and social networks are, whether we like it or not, inevitable part of modern age. That's why many of us search for inspiration on Instagram or Pinterest. Among many amazing pictures, hidden beaches that lure us to drop our towels on them, and the most romantic sunsets, Budva is really one of a kind with its beauty.
So, why is Budva right place to go for vacation and holiday? Apartments in Montenegro, Sofija, will reveal to you that "enigma".
Where To Go This Summer? To Budva – Because It Has Beautiful, Untouched Beaches
Beaches in Montenegro are widely known not only for their beauty, but also for cleanliness with world quality standards. In Budva Riviera there are eleven beaches with a blue flag. The most famous beach there is Jaz, which is also the biggest one. Also, one of the most recognizable beaches there is Kamenovo. Here you will enjoy the magnificent, turquoise color of the sea.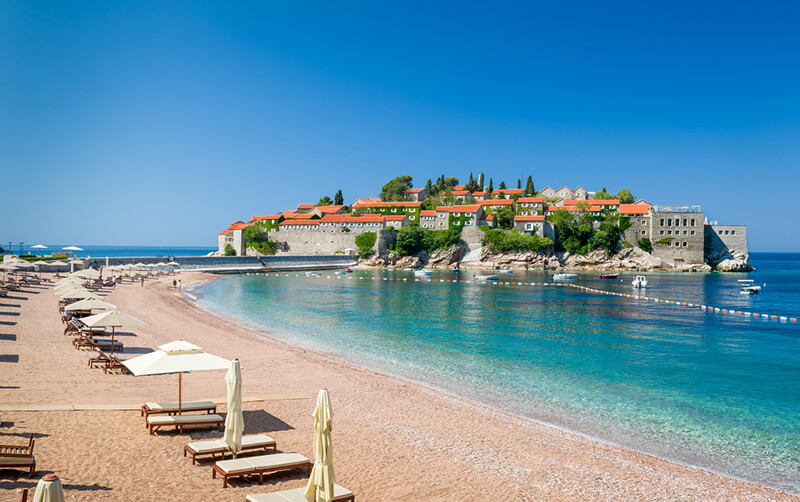 For those tourists who want to see the Old Town of Budva, there is beach Richard's head. Also, there is beautiful Mogren and the Slovenian beach.
If these incredible things are not enough for you, so you are still thinking where to go this summer, you will no long have any doubts when you discover the St. Nicholas island. Budva connects to this island with underwater sandbank and makes its component.
Beaches are modernly decorated with sport facilities, cafes and bars. But, on their south side, which is open to the sea, you will come across smaller shores and hidden bays. They are the one that will make you feel wonderful because of its unrealistically beautiful landscapes.
Where To Spend Summer Holiday 2019? In Budva – Because It Is Capital Of Culture
The picturesque Old Town of Budva offers you the perfect combination of history and tradition. Rich coloring and beautiful architecture will turn you into a passionate tourist, even if you didn't have any desire to go for a long walk and explore things.
Small medieval squares with their narrow stone streets will lead you to the passages and courtyards hidden from the eyes of the accidental passers-by. But, they will also lead you to the city ramparts, where is the nicest panoramic view of the sea and the whole city.
To get to know the history of Budva, you have to visit Archaeological Museum. This institution extends on four floors. You can find here the entire cultural heritage since ancient history, to the ethnographic exhibits of recent history.
Antique lovers must not miss the bazaar. Not only you will discover fascinating antiques here, but also you will have a unique opportunity to hang out with native old-timers.
Where To Go This Summer? To Budva – Because You Will Have The Best Time Of Your Life
If you ask a younger generation "where to go this summer", the answer fo sure would be "somewhere where I will have the best fun and time ever". And, definitely, you will have unforgettable summer holiday in Budva – the city most known for wild nightlife.
You will not find anywhere concentration of elite restaurants, pleasant bars and exclusive clubs such as in this city. Therefore, it's not surprising fact that Budva became a synonym for the great night life that you can experience seven days in a week.
If Montenegro summer 2019 is your destination, lux apartments in Becici, Sofija, are waiting for you. Feel free to call us and book on time a high-quality accommodation in Montenegro.